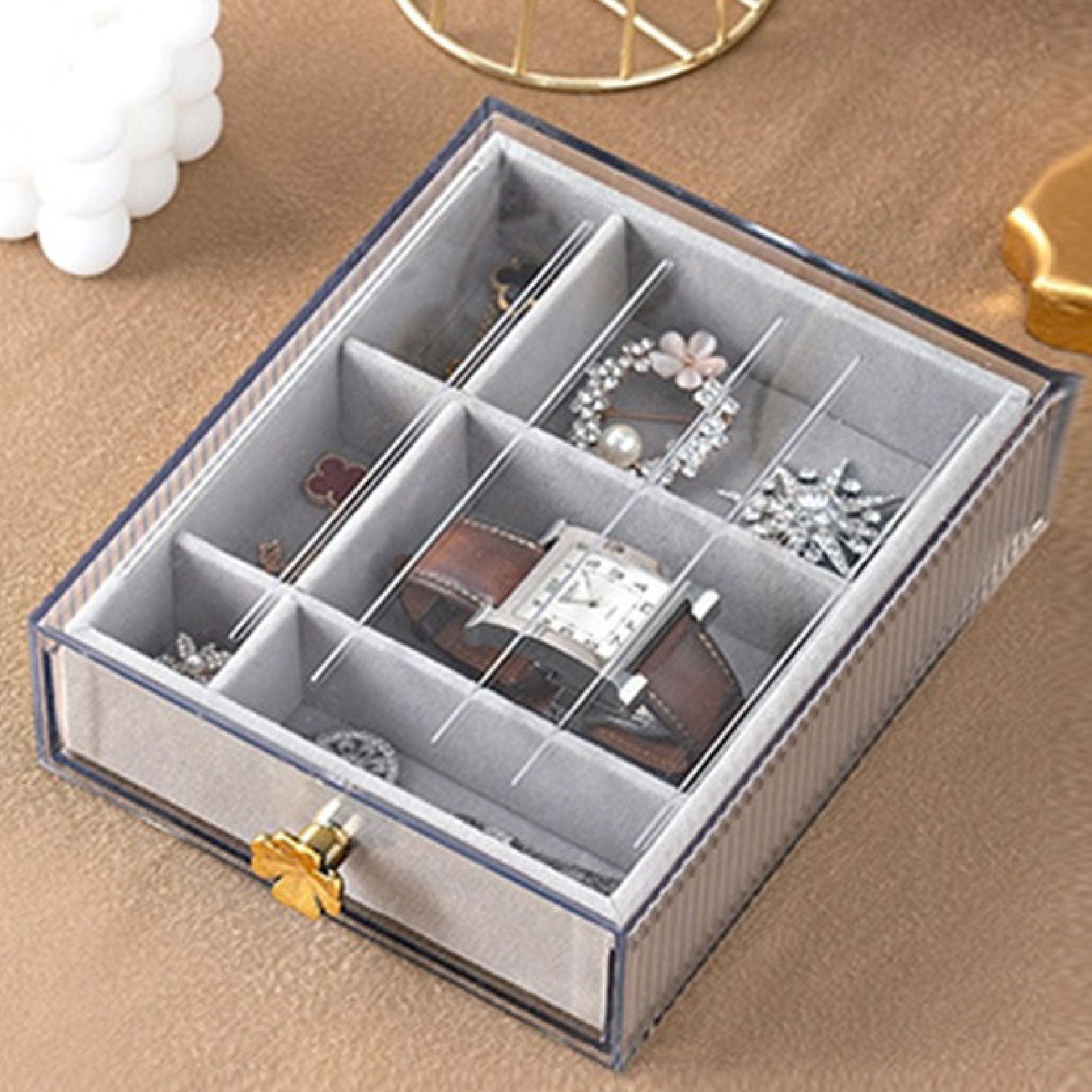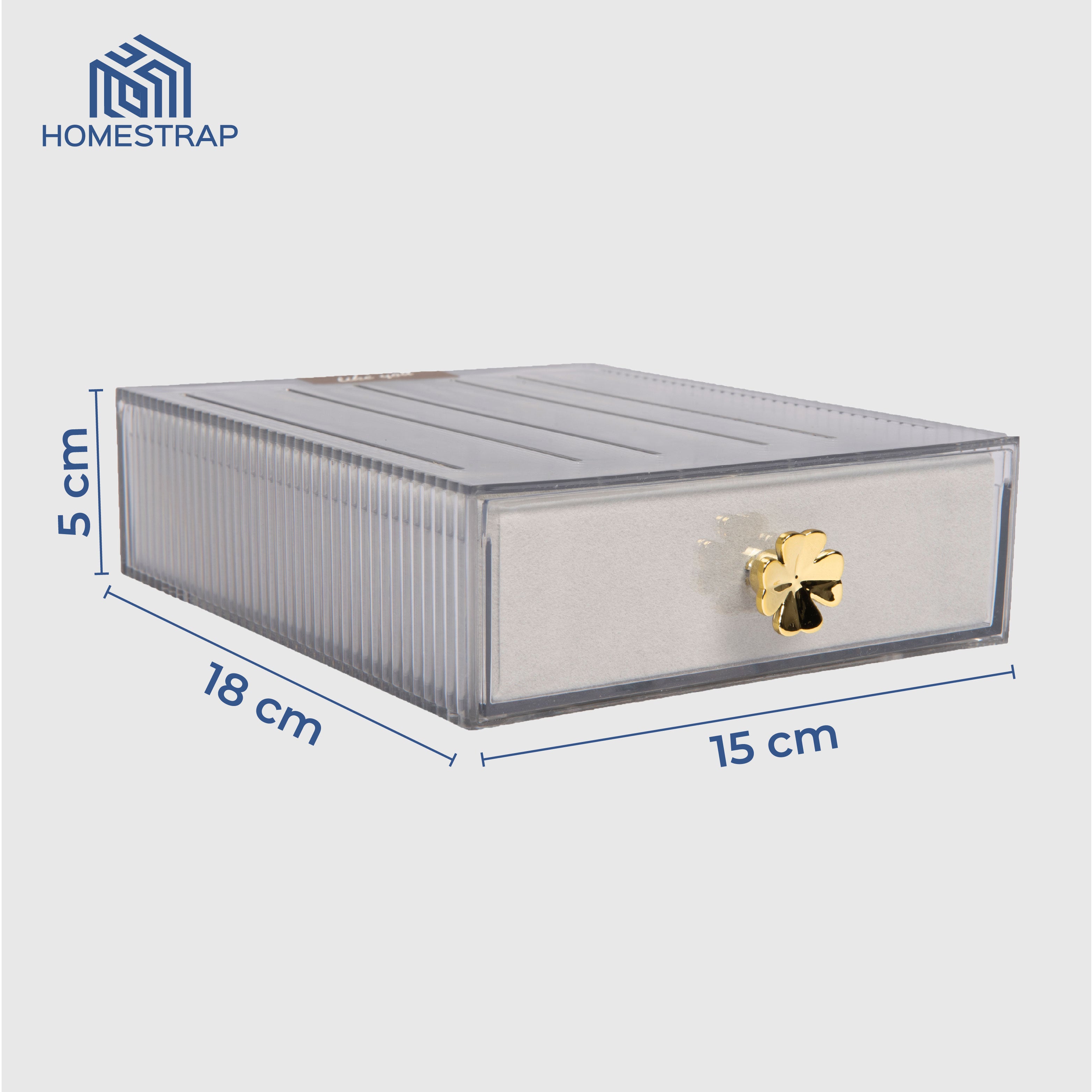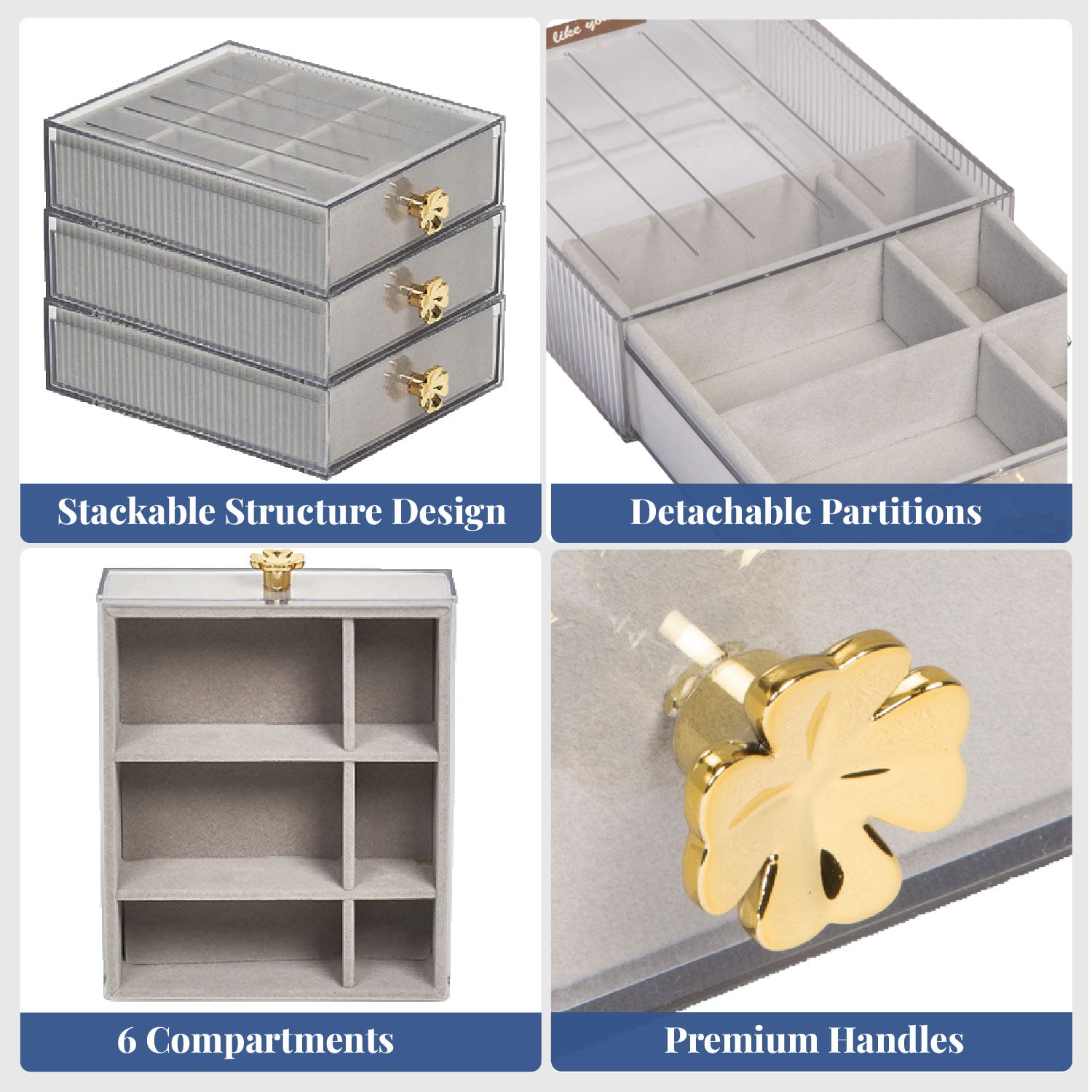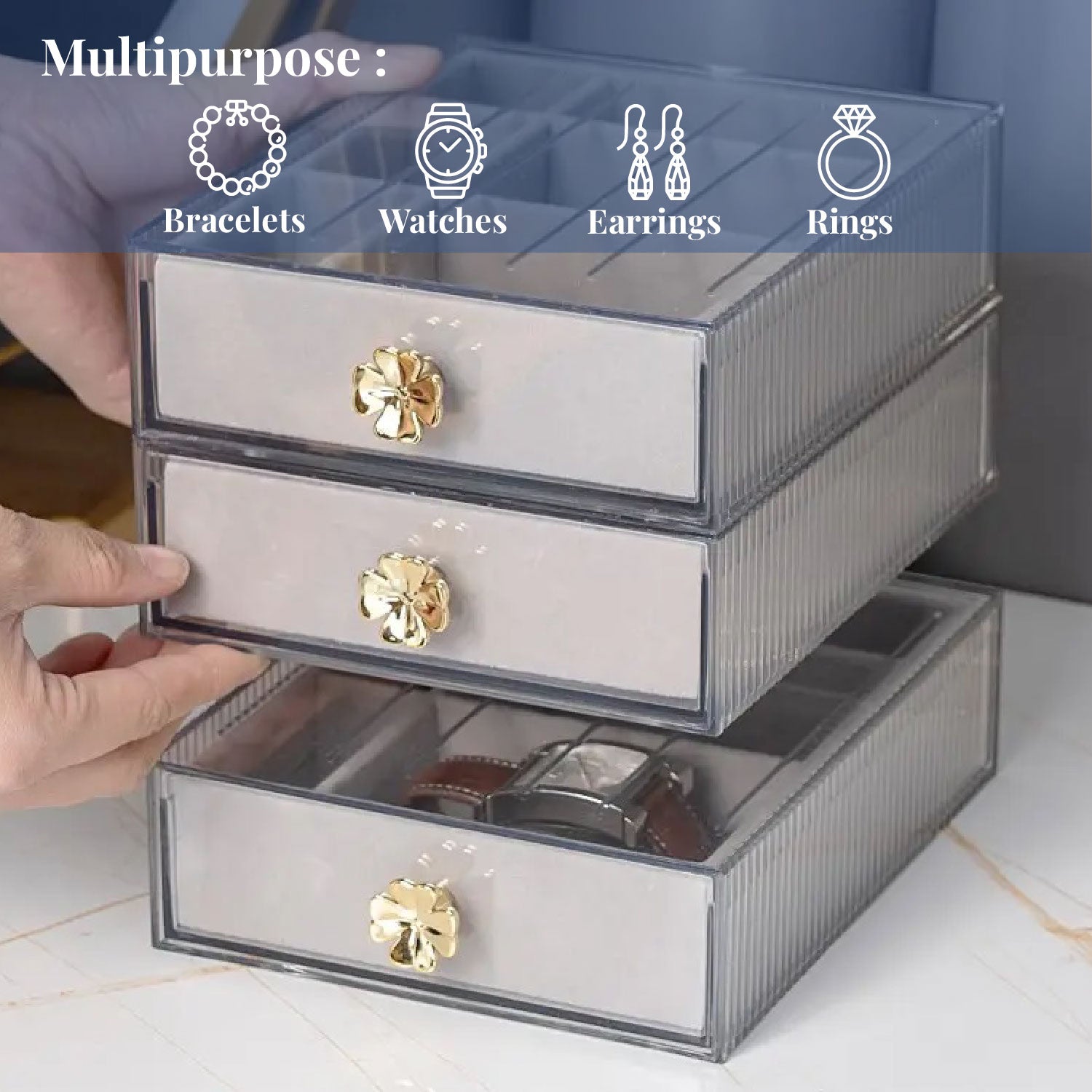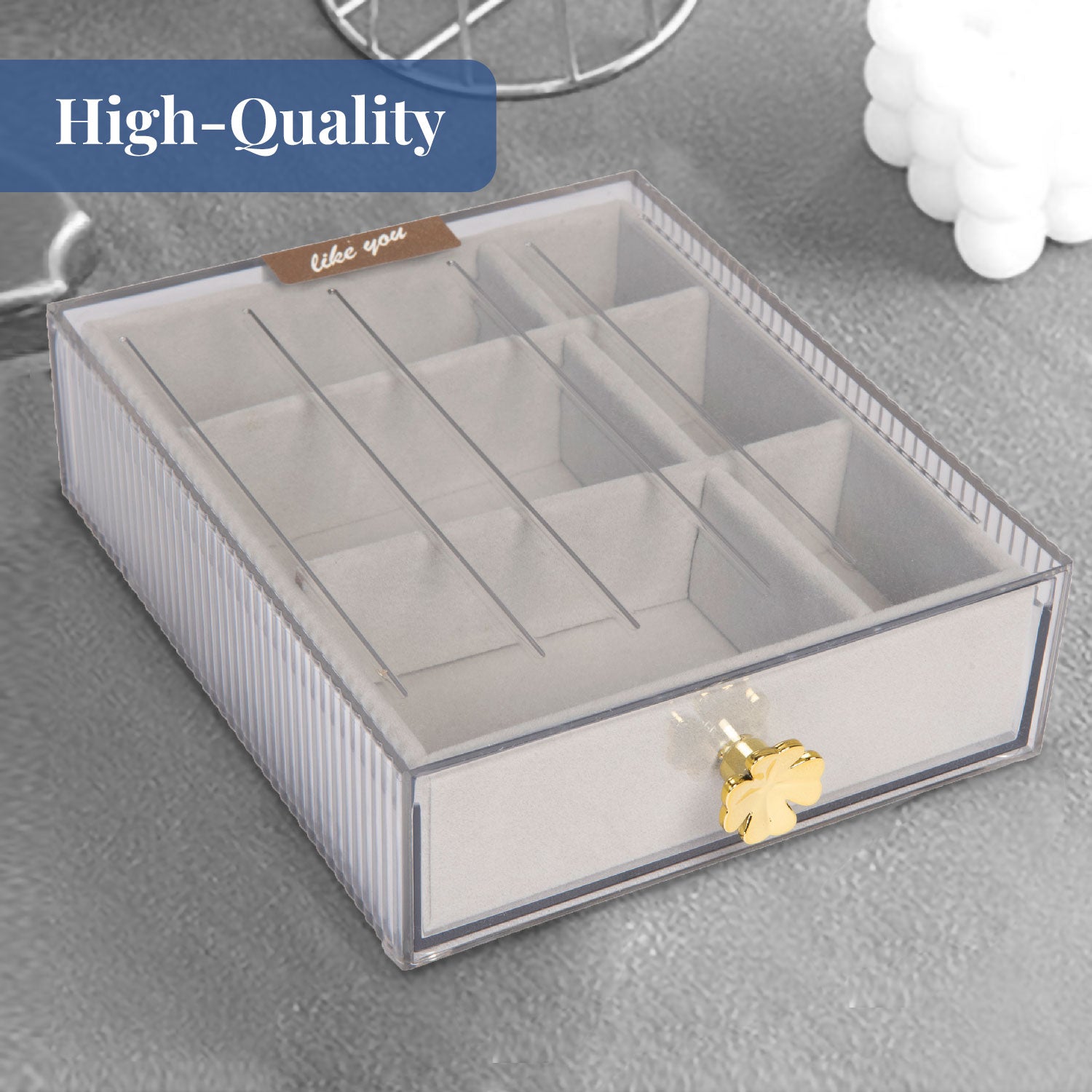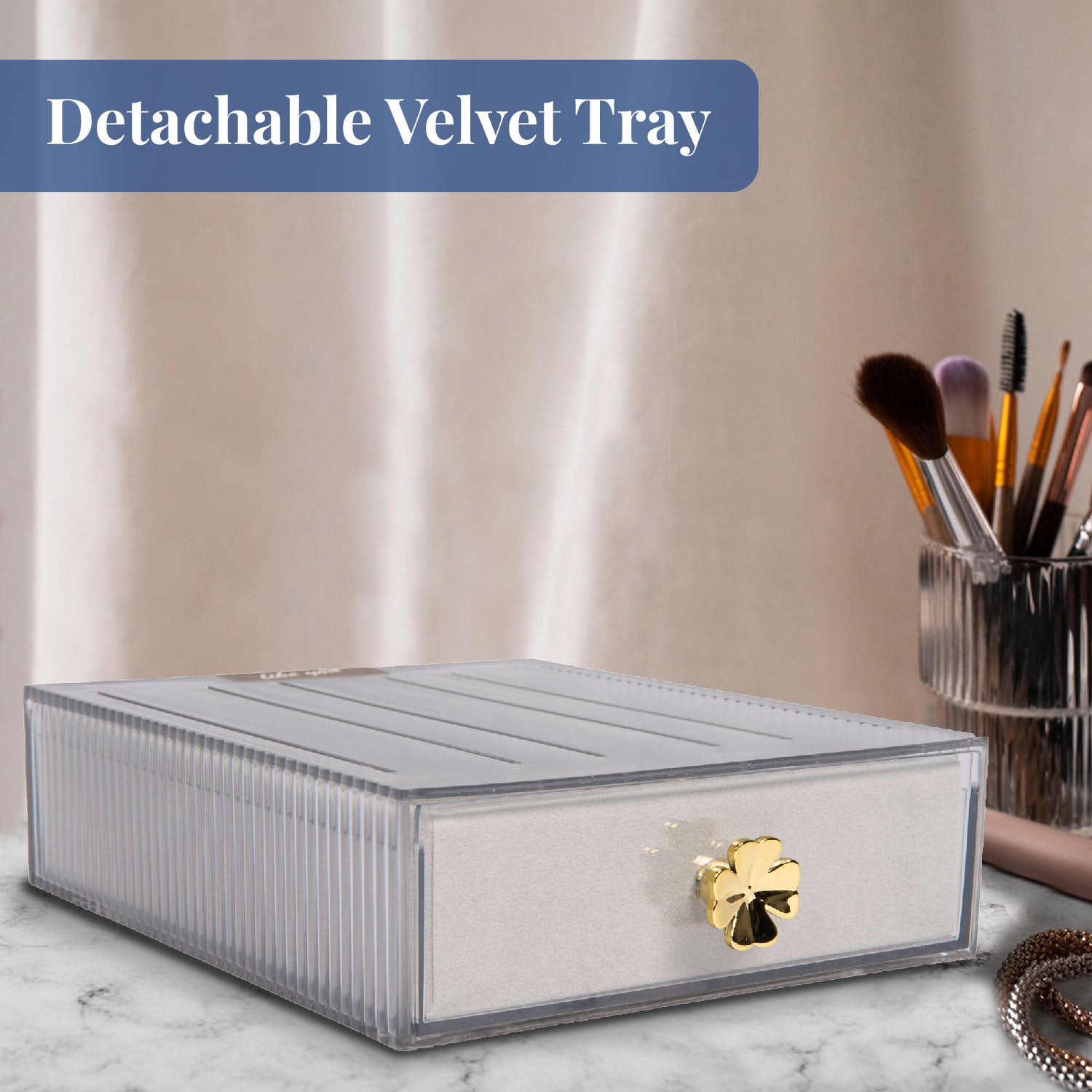 Sparkle safe | Jewelry Storage Case Display
Specs & features:

Material:PET
Dimensions: 18 cm length, 15 cm breadth, and 5cm height
Color: Transparent
Made of high-quality selected flocking lining and composite board, this jewelry organizer is soft to the touch and will protect your jewelry and accessories from damage or abrasion.
6 Dividers Compartment for organizing and storing small jewelry like rings, neckpieces, bracelets, studs, and earrings.
The jewellery organizer has completely removable drawers that slide out smoothly with Flower Shaped Golden molded nob handles that are very easy to grab and pull out. Keeps the accessories dry and dust-free.

Introducing our Jewelry Storage Case Display - the ultimate solution for organizing and showcasing your precious jewelry and accessories. This stackable, transparent organizer box is designed to provide convenience, functionality, and elegance to your jewelry collection. With its clear design, this jewelry case allows you to easily see and access your favorite pieces at a glance. No more rummaging through tangled necklaces or searching for that perfect pair of earrings. Every item is neatly displayed and protected in its own compartment, ensuring that your jewelry remains untangled and in pristine condition. Not only does this case keep your jewelry organized, but it also adds a touch of sophistication to any room or dressing area. The sleek, transparent construction enhances the visual appeal of your jewelry collection, turning it into a beautiful display. Whether you place it on your vanity, shelf, or countertop, it effortlessly complements any décor style. Our jewelry storage case is not limited to just jewelry. It is a multi-purpose organizer that can accommodate various accessories such as watches, rings, bracelets, brooches, and more. You can even use it to store small trinkets or keepsakes that hold sentimental value. Cleaning this jewelry case is a breeze. Simply wash it normally with mild soap and water, and then air dry it in a cool place. The durable materials used in its construction ensure that it withstands regular cleaning and maintains its transparency and integrity over time. Invest in our Jewelry Storage Case Display today and transform the way you organize and display your valuable jewelry and accessories. Experience the convenience, elegance, and versatility it offers, and enjoy the peace of mind of knowing that your jewelry is safely stored and beautifully presented.