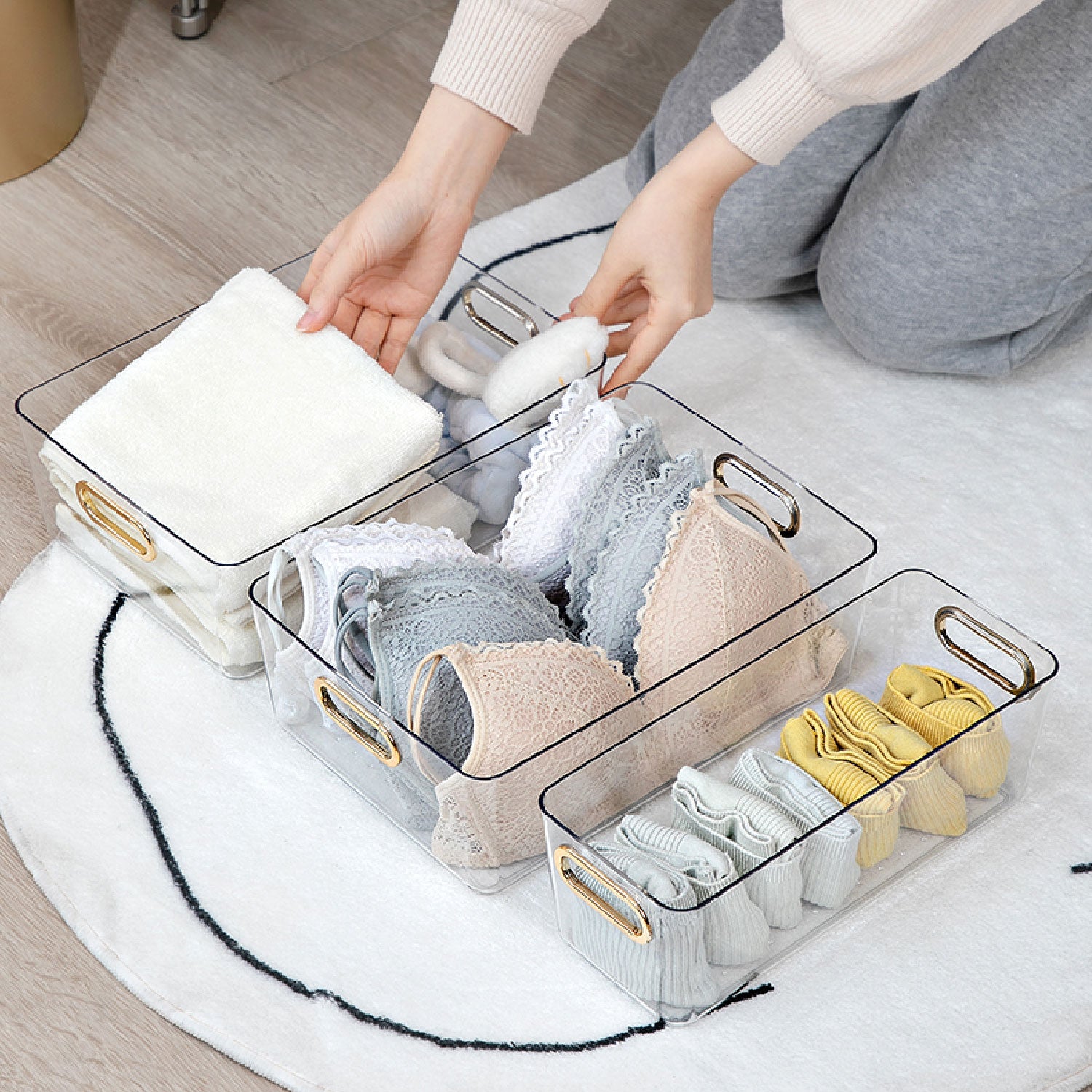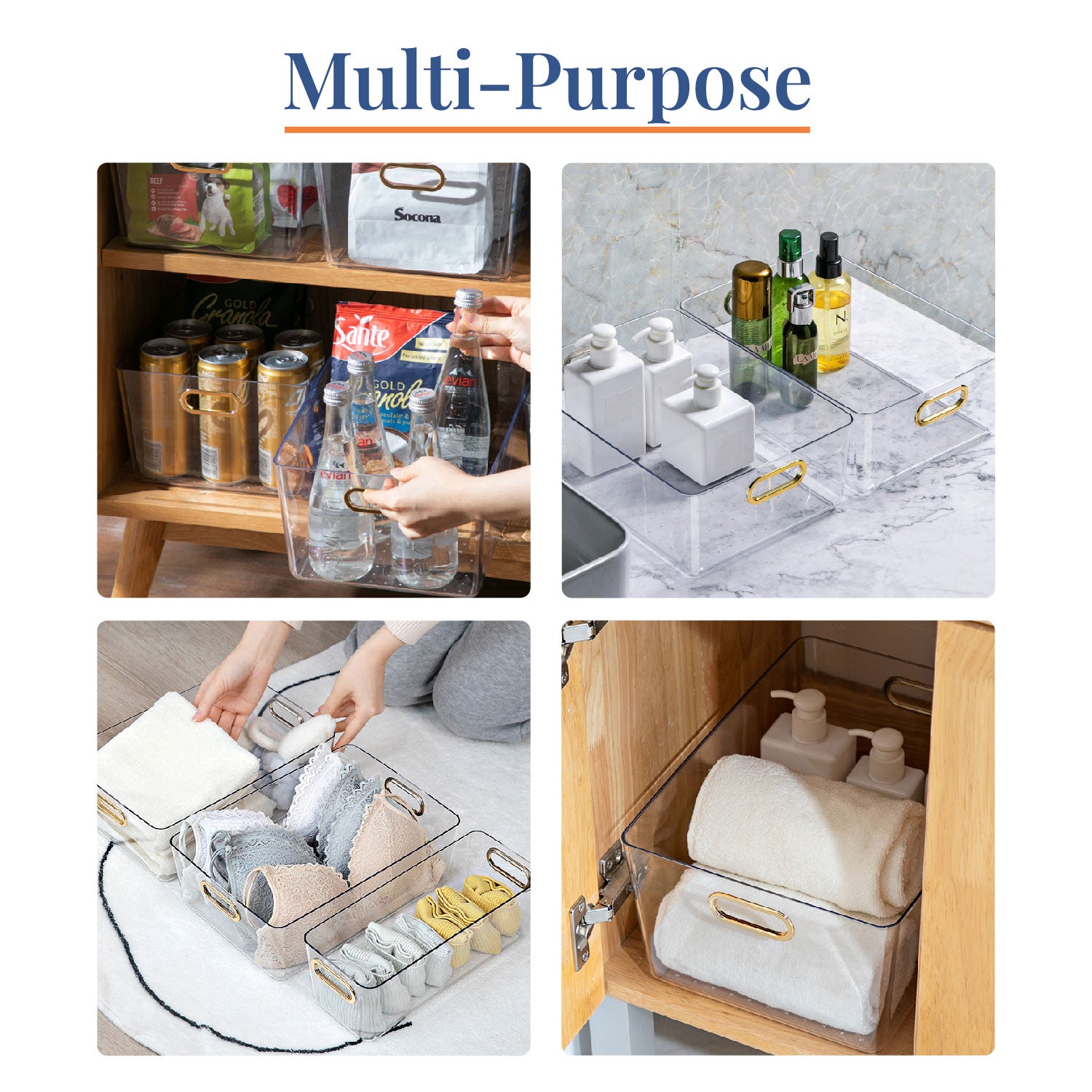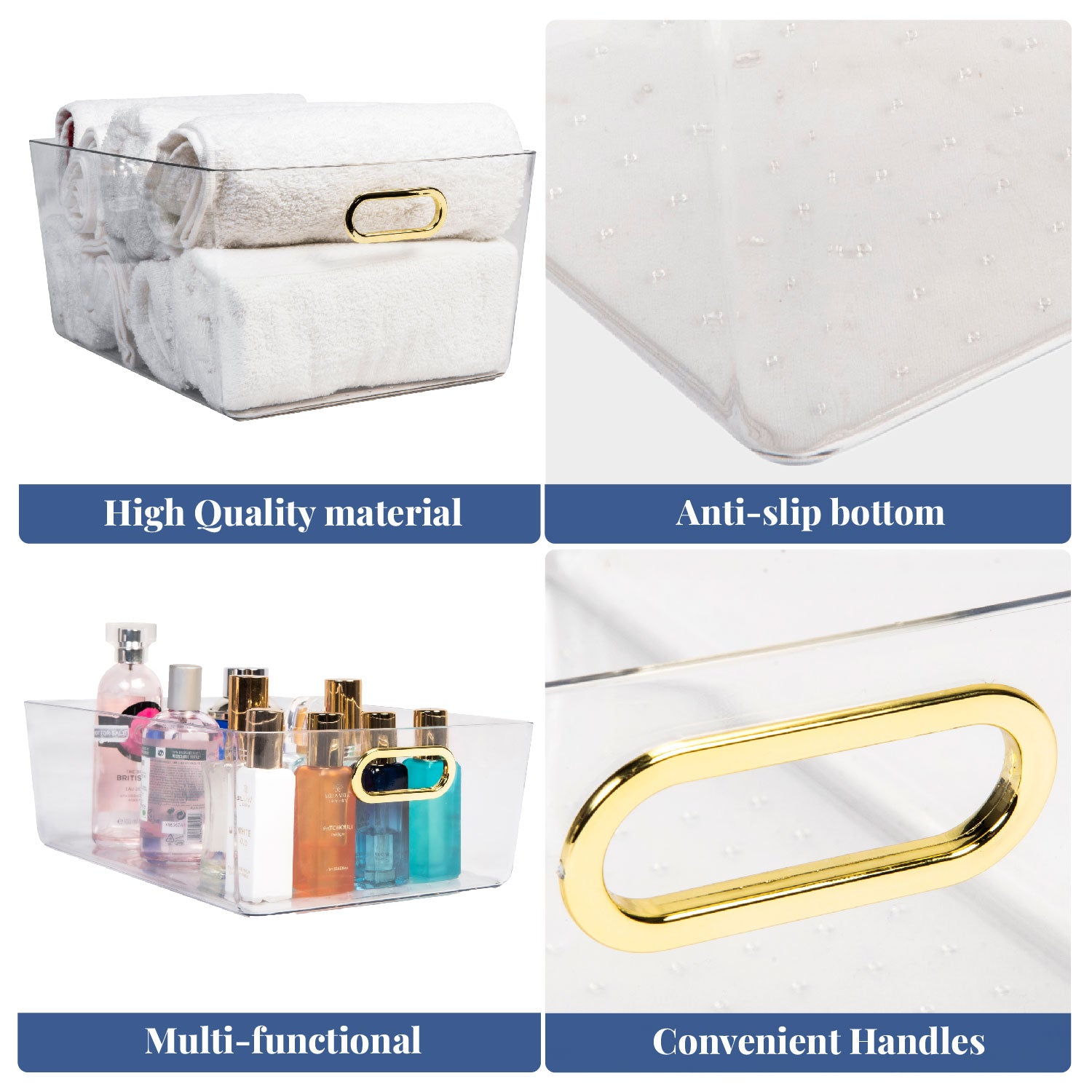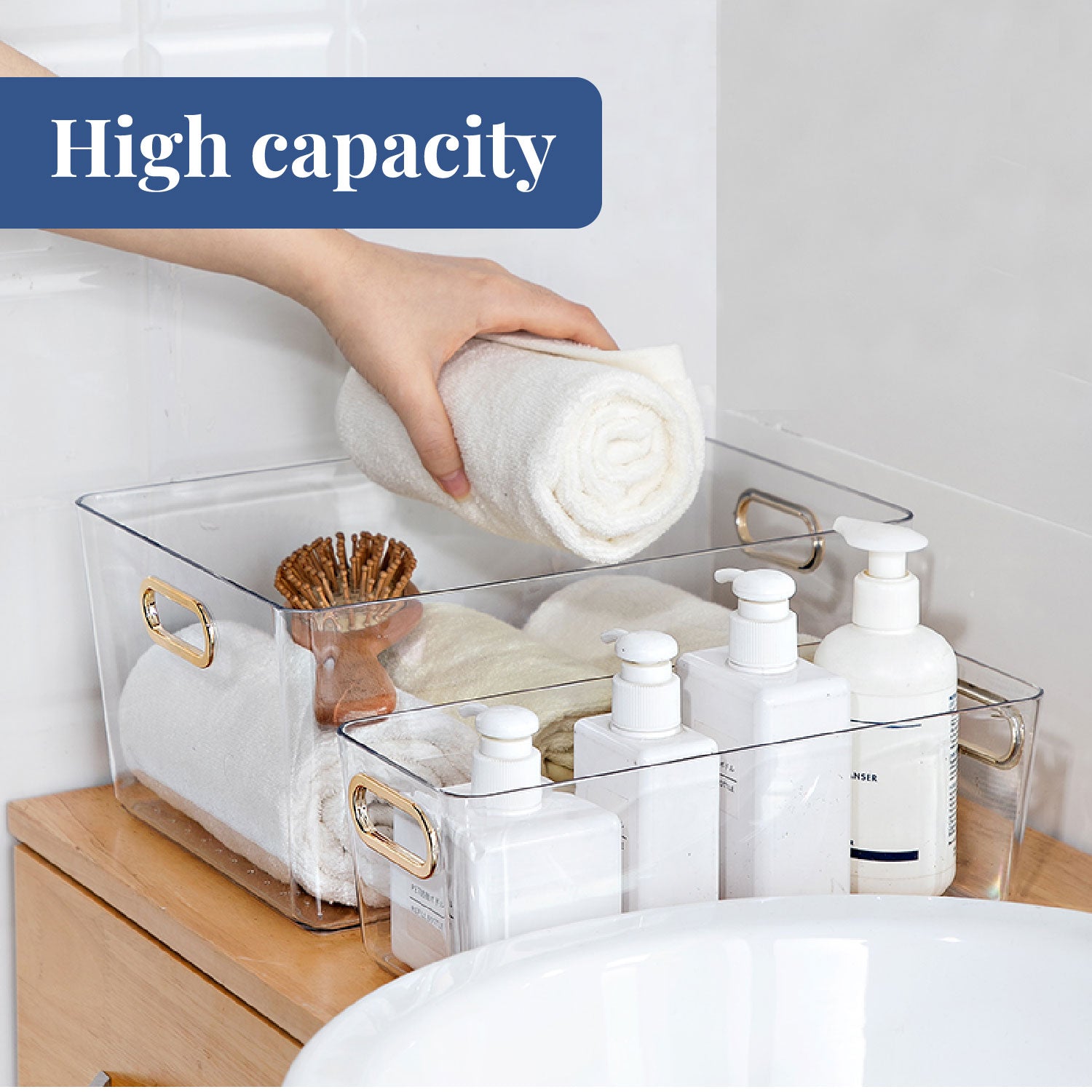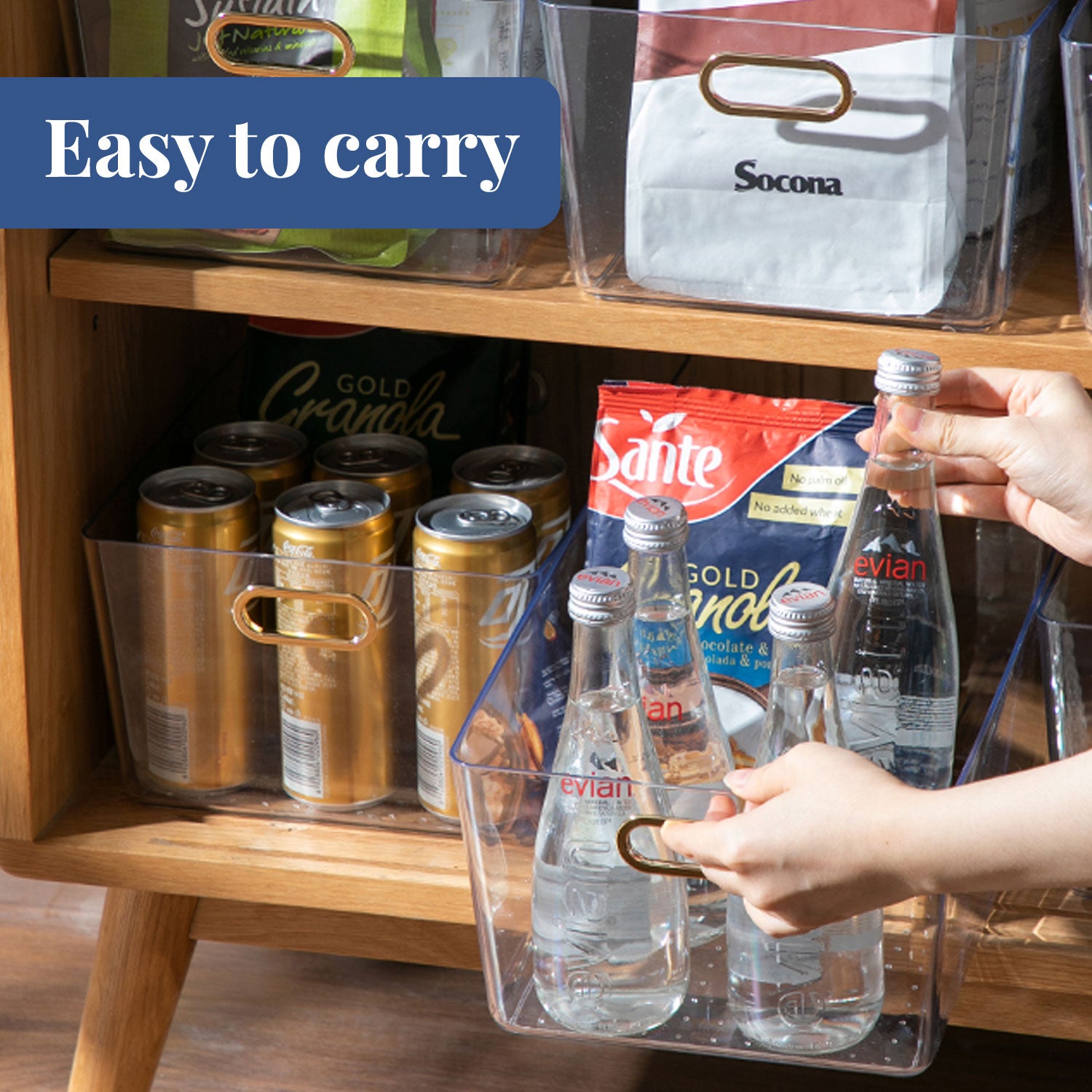 Glassy Bins | Set of 3, Transparent Storage Bins with Handle
Specs & features:

Material: PP
Dimensions: Large- 32cm length, 22cm breadth, and 14cm height; Medium- 29cm length, 20cm breadth, and 9cm height; Small- 27 cm length, 11cm breadth, and 9cm height
Color: Transparent
Storage bins have built-in handles for easy transportation and handling of tableware storage drawers. Washable or Dishwasher Safe Bins.
Transparent materials allow you to easily view the content contained in each storage box, making it easier to locate your items and bring more convenience to your daily life.
With the perfect size, it's great to use them in any room of the home, such as in a kitchen, pantry, closet, bedrooms, offices, garages, toy room, and more

Introducing our Set of 3 Transparent Storage Boxes, the perfect solution for organizing your pantry, kitchen, refrigerator, bathroom, desktop, or office space. These versatile storage bins are designed to make your life easier and more efficient. With their transparent and visible design, these storage boxes allow you to quickly locate and access your items without the hassle of rummaging through cluttered drawers or cabinets. You can quickly identify the contents inside, saving you time and effort. Made from high-quality materials, these storage boxes are durable and built to last. They are designed with a convenient handle, making it easy to carry them around and transport your items from one place to another. Cleaning these storage boxes is a breeze. They can be washed normally or, for your convenience, they are also dishwasher-safe. Place them in the dishwasher, and they will come out clean and ready to use again. These storage boxes are suitable for a wide range of temperatures. They can withstand temperatures ranging from -20 to 60 degrees Celsius, allowing you to use them in various environments without worrying about their durability. Whether you need to organize your kitchen essentials, keep your bathroom items in order, or declutter your office space, our Set of 3 Transparent Storage Boxes is the perfect solution. Invest in these versatile and practical organizer bins today and enjoy a clutter-free and well-organized space.